keyk
I don't see myself touching up or adding to this any time in the near future, and if I do, I'd probably want to restart it instead. :V So! Posting current animation progress: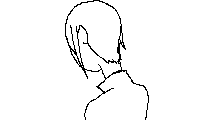 Done in
EasyToon
, drawn using a tablet. 367 total frames, moves at a rate of 10 frames/second.
Who knows! Maybe I'll actually
finish
a rough animation to show off my stories one day! But this winter break ain't when.